Comprehensive services
We are pleased to offer a wide variety of electrical services. If your needs aren't on this list, please contact us — in most cases we will be able to work with you to find a solution.
Switches & outlets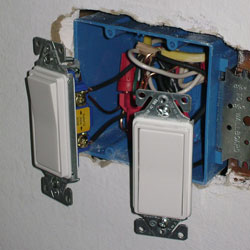 Update for safety! After years of use, switches and outlets can and will wear out. Let us check your outlets and switches that spark when you use them. Sometimes an incorrectly wired switch or outlet can cause power outages in other rooms. Another device we often correct is the GFCI, since these can also wear out. GFCI outlets are required near any sink and in the garage. Whole house surge protection is a must.
Fans & lighting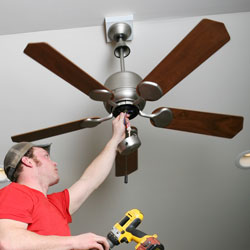 Brighten your home! We replace or install any and all light fixtures. Ask us about any kind of new decorative lighting — track lights, recessed lighting, pendant lights, chandeliers, under-cabinet lights. We can add motion-activated security lights or flood lights to light your property. We install bathroom fans, vent fans, and ceiling fans. We also install smoke alarms, CO2 alarms, and microwave ovens, and Internet wiring using CAT5 or CAT6 cable.
Breaker panels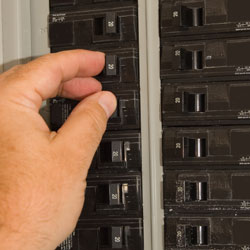 Modernize at the heart! Breaker panels are the heart of your electrical system. Panels installed years ago were designed for the less demanding electrical usage of their own era. Now TVs, computers, and appliances all contribute demands that may not be met by an old breaker panel. Let us come and inspect your panel to see if an upgrade is warranted.
Electric car charging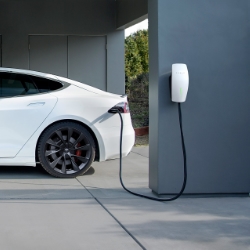 Go green! Thrilled with your new Tesla or Nissan Leaf, or any other electric model? The best place to charge your car is at home, overnight. Plug it in when you get home and wake up to a full charge every morning. Charge your car from the sun and drive on sunshine by adding solar panels to power your home.
Why hire a licensed contractor?
Highly trained & experienced.

A licensed contractor has the training and experience to get your project done safely and correctly. The rigorous process of earning a license ensures the necessary skills to handle an enormous variety of challenges, and entails a background analysis for a proven track record of professionalism and solid results.

Licensed and insured.

Properly licensed contractors carry workers' compensation and liability insurance to protect you from risk if anyone is hurt, or if any damage is done to the property while the project is being completed.

It's the law.

It is illegal for an unlicensed person to perform contracting work on any project valued at $2500 or more in labor and materials combined.
Financing available
We have teamed up with Hearth, the leader in home improvement financing, to help you break your project into predictable monthly payments. You can request up to $100,000 and receive funding as soon as 24 hours. Pre-qualify in 60 seconds without affecting your credit score.